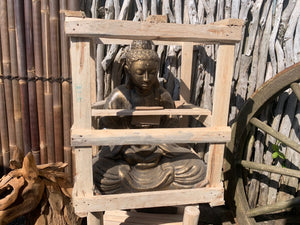 Brand New Crated Sitting Buddha Statue in a Bronze Finish
Description

Our sitting Buddha statue in bronze is a sculpture depicting the Buddha in a seated position, with his legs crossed and his hands resting in his lap in a meditative pose. The statue is made of bronze, a durable and long-lasting material that has been used in sculpture for thousands of years. The Buddha is a spiritual figure revered in Buddhism and is often depicted in art as a symbol of peace, enlightenment, and wisdom. Our bronze Buddha statue can be used for decoration or as a focal point for meditation or spiritual practices.
These statues can be placed on a pedestal or displayed on the ground, and can be used as a decorative piece or as a spiritual symbol in a meditation room or outdoor Zen garden.
The bronze finish can add a sense of elegance and refinement to the statue, while also providing a durable coating that can withstand the elements if displayed outdoors.
Price Includes Delivery

Dimensions:
Height: 80cm
Width: 57cm
Depth: 30cm
Material:
Fibrecrete