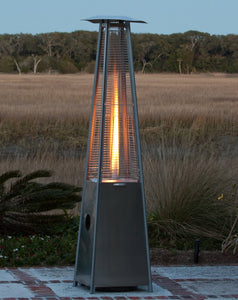 Brand New Boxed Commercial Pyramid Patio Heater

Our Commercial Pyramid Patio Heater is a Type of Outdoor Heating Unit Used to Provide Warmth to Outdoor Spaces Such as Patios, Decks & Balconies
Specification

Size: 2.3m Tall x 50cm Wide x 50cm Depth
Material: Stainless Steel
Cover Not Included
Price includes delivery
Our patio heaters offer several benefits, including:
Extended outdoor use: The patio heater can extend the use of outdoor spaces, allowing people to enjoy their patios, decks, and balconies for longer periods of time, even in cooler weather.

Comfort: Patio heaters provide warmth and comfort, allowing people to relax and enjoy the outdoors without being chilly.

Energy-efficient

Safety: Patio heaters are typically designed with safety features, such as tip-over switches and safety shut-off valves, to prevent accidents and fires.

Easy to use: Patio heaters are easy to operate and require minimal maintenance, making them a convenient and low-hassle addition to outdoor spaces.

Versatility: Patio heaters can be used in a variety of outdoor spaces, such as patios, decks, balconies, and outdoor dining areas. They can also be used in commercial settings, such as outdoor dining areas of restaurants and cafes.