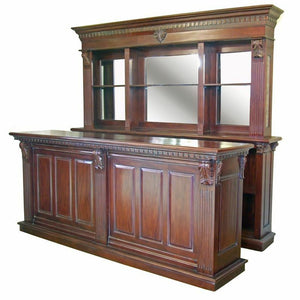 FAST & FREE UK MAINLAND DELIVERY, PRICE MATCHED, EUROPE'S LARGEST STOCKIST OF BARS
- Brand New Exceptional 2.6m Solid Period Mahogany Pub Counter & Back Bar – Home/Drinks/Wine/Shop
Bar Counter Size - Depth - 60cm / Height 107.5cm
Back Bar Size - Depth 35.5cm / Height 227.5cm
Complete Front Counter and Mirrored Back Bar
Finished in Antique Period Mahogany
Mirrored back on the cabinet
Shelving and storage within
Comes in different sections - front counter complete, back bar base complete along with the mirrors and cornice separate for easy home assembly
Fast, free delivery

Our period antique bars are finished with handmade marks to create an original authentic aged look.

PRICE INCLUDES DELIVERY
Designed by John Cowell Ltd and made by craftsmen with complete emphasis on both quality and authenticity this stunning 2.6m period mahogany exceptional pub bar counter and matching back bar is decorated with statement carved wooden corbels, handmade raised and fielded panels and high-quality bevelled mirrors. This charming bar is also an exceptional piece of furniture and is perfect for serving and storing barware and beverages. With its classic design, this statement bar features a huge storage space under the front counter, and several removeable shelves on the back bar base and top bar. From the elegant design to quality build this bar will bring many years of convenience and pleasure to your home or venue. Our period antique bars are finished with handmade marks to create an original authentic aged look.
Our customers have installed our bars in a variety of settings, including pubs, restaurants, hotels, cafes, home bars, garden bars, garage bars & man caves.
John Cowell is Europe's largest stockist of bars, perfect for the home, pubs, cafes, hotels & restaurants. Our wide range of bars are ready to dispatch via our specialist couriers and orders can be delivered within 1 to 5 working days. Our bars have been featured in a range of films & TV productions, including the upcoming James Bond release No Time To Die, Hollyoaks Ch4 & the world famous London Bridge Experience & are key features in countless luxury bars, clubs & restaurants around the world.