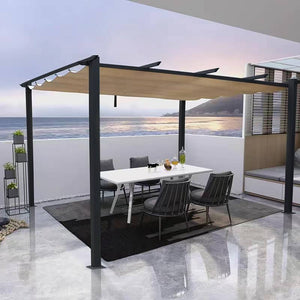 Brand New Boxed Latina Pergola Gazebo Comes With Retracting Canopy Roof, Free Standing with Bolt Down Columns
Specification
Size: 3m x 3m
Material: Aluminium Frame and Shower Proof Canopy
Colour: Grey
Price includes delivery.
A pergola gazebo is a type of outdoor structure that combines elements of a pergola and a gazebo. Some of the benefits of a pergola gazebo include:
Versatile design: A pergola gazebo offers the best of both worlds, with the open and airy feel of a pergola and the protection from the elements provided by a gazebo.

Increased outdoor living space: A pergola gazebo provides a shaded and protected outdoor space for entertaining, relaxing, and enjoying the outdoors.

Improved home value: A pergola gazebo can add value to a home by improving outdoor living spaces and enhancing the aesthetic appeal of a property.

Increased privacy: Pergola gazebos can provide increased privacy and seclusion, allowing people to enjoy their outdoor spaces without being disturbed.

Protection from the elements: Pergola gazebos offer protection from the sun, rain, and wind, making outdoor spaces usable and comfortable in a variety of weather conditions.