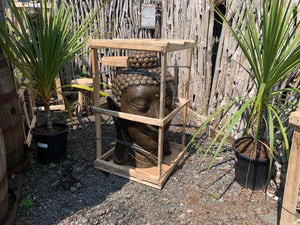 New Crated Buddha Head in a Bronze Finish
Description

Our crated large Buddha head in a bronze finish can be a beautiful and serene addition to any indoor or outdoor space. These statues are typically made of durable material and are designed to resemble the head of a Buddha statue, with intricate detailing and a serene expression.
These statues can be placed on a pedestal or displayed on the ground, and can be used as a decorative piece or as a spiritual symbol in a meditation room or outdoor Zen garden.
The bronze finish can add a sense of sophistication and elegance to the statue, while also providing a durable coating that can withstand the elements if displayed outdoors.
Overall,  the large Buddha head in a bronze finish can bring a sense of peace and tranquillity to any space and serve as a meaningful and beautiful decorative piece.
Price Includes Delivery

Dimensions:
Height: 100cm
Width: 

Material:
Fibrecrete